Galaxy of customized solutions
Company News
In September, meet our new sensor developments for Hydrogen at two exhibitions
In September, two leading exhibitions on hydrogen and alternative energy technologies will take place in Germany:
12-15.September – HUSUM Wind (Husum) (Our booth: 1B18g)
27-28.September – HYDROGEN Technology EXPO (Bremen) (Our booth: A20/Hall 7)
Our team is looking forward to welcoming you at our booths!
New sensor developments from PMST for hydrogen and alternative energy market deserve attention!

New Explosion-proof pressure transmitters:
PMP-S122.04-ExD

and

PMP-C122.04-ExD

with CSA certification
Prignitz Mikrosystemtechnik extends its range of pressure sensors for hazardous areas and introduces the new explosion proof pressure transducers: PMP-S122.04-ExD and PMP-C122.04-ExD. The sensors have been successfully certified by CSA for safe use in  Class I Division 1 Groups A, B, C, D Explosion Proof and Class II Division 1 Groups E, F, G Ignition Proof.
They will now be offered to our North American customers in the oil and gas, mining, power generation (including alternative energy), marine and offshore markets.
Key features of the PMP-S122.04-ExD:

Pressure ranges: from 150 to 15,000 psi (from 10 bar to 1,000 bar)
Mechanical connections: 1/2-14 NPT; 1/4 NPT. Others on request
Electrical connections: tube fitting 1/2 NPT M with cable
Wetted parts: Stainless steel 1.4404 (316L)
Accuracy: +/- 0.5% BFSL
The PMP-C122.04-ExD sensor has all of the above advantages, but offers higher signal accuracy better than 0.25% of full scale signal, as well as:
Signal downscaling on request by PC-software,
Zero-setting by tool or on request by PC-software
Signal filtering on request by PC-software
The undisputed advantage of our Ex Proof pressure transducers is that they are based on our patented P2P technology. It's a new strain gauge technology that uses two complete bridges connected together to meet the highest demands for sensor stability and accuracy.
With high R&D capabilities, our company is able to offer a wide range of customised options for our customers.
A copy of the Certificate of Compliance issued by CSA can be downloaded here.
You can also search for "Prignitz Mikrosystemtechnik" under Manufacturers on the official CSA website.
Datasheets  can be found here: PMP-S122.04-ExD ; PMP-C122.04-ExD
For more information please contact us by email: info@prignitz-mst.de.
To request a quote: offer@prignitz-mst.de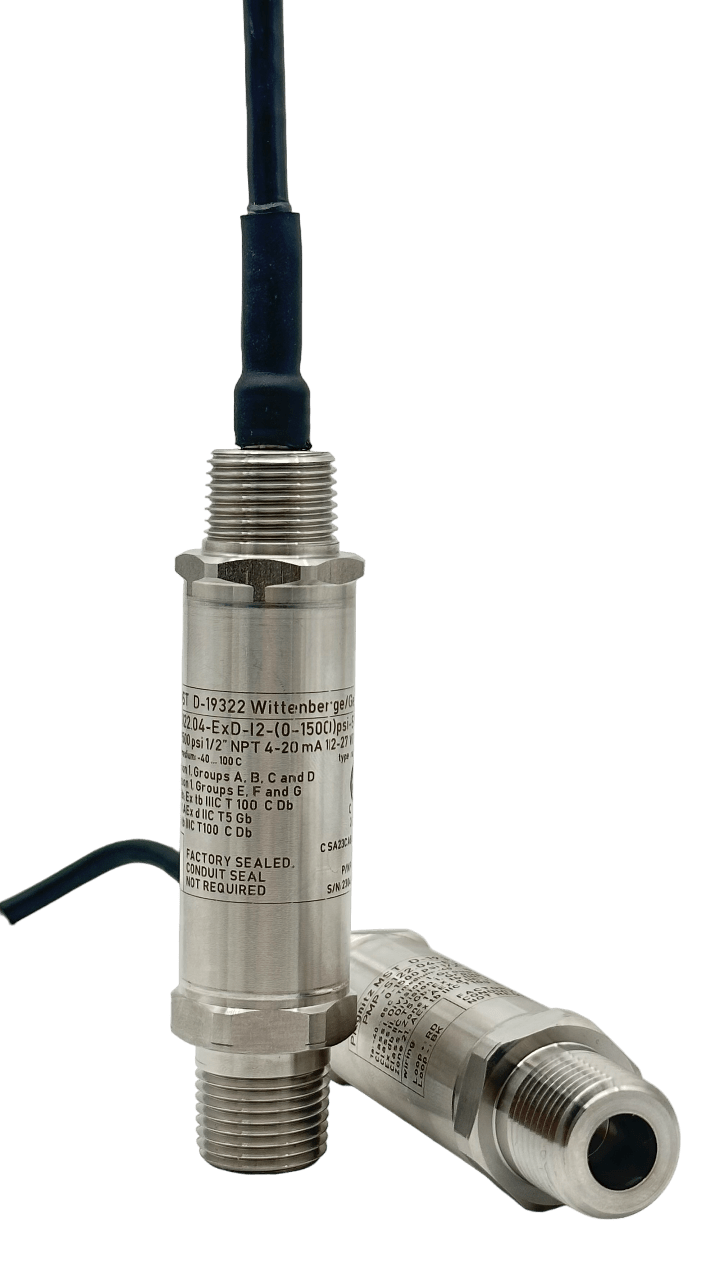 We received BSFZ-Seal: innovation competence officially confirmed
Prignitz Mikrosystemtechnik has recently received the BSFZ-Seal. With this BSFZ-Seal (Bescheinigungsstelle Forschungszulage) awards companies that achieve special technological results due to their R&D activities. The BSFZ works on behalf of the Federal Ministry of Education and Research.
Prignitz Mikrosystemtechnik was awarded the seal for the project "Transmitter series in flat design". The pressure transmitter series developed in the project is characterized by minimal dimensions. It realizes the patented double bridge solution (our patented P2P technology) with a very small membrane. The pressure transducer and the so-called spacer (spacer for the bond circuit board) have been redesigned to achieve minimal dimensions and to allow lowest possible stresses from the screw-in connection to the diaphragm.
Based on this successful R&D project, our company launched one of its innovative transmitters called PMP-S222.
It is a piezoresistive, very compact pressure transmitter that meets the highest requirements for reliability, stability, vibration and shock resistance, among others.
It was specially developed for series use by OEMs in harsh environmental conditions. An example is off-road use of vehicles and machinery in construction, mining, agriculture, military vehicles, etc. PMP-S222 also is suitable for use in hydrogen applications.
Our undisputed competitive advantage is our strong and successful research and development, which generates new technological solutions. We are pleased that our efforts have now been recognized with the BSFZ-Seal.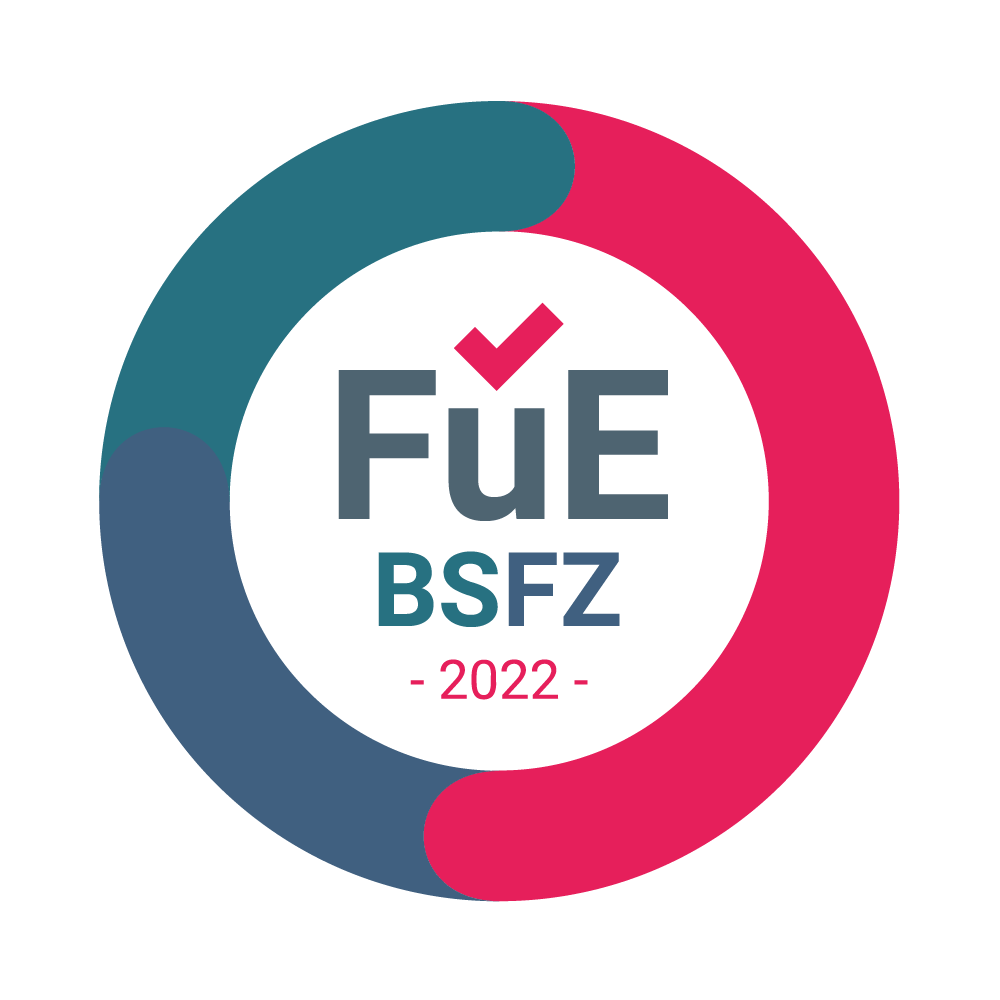 Prignitz Mikrosystemtechnik started a colaboration with HYFINDER
Prignitz Mikrosystemtechnik started a colaboration with Hyfindr a dynamic and world leading B2B marketplace for reliable products and services in the hydrogen economy. Our company has expanded and updated its product line, especially in the area of specialized and robust pressure sensors. These high quality sensors are now available through Hyfinder and can be ordered on a continuous basis. We are confident that this cooperation will lead to successful results. Stay tuned for more updates and news!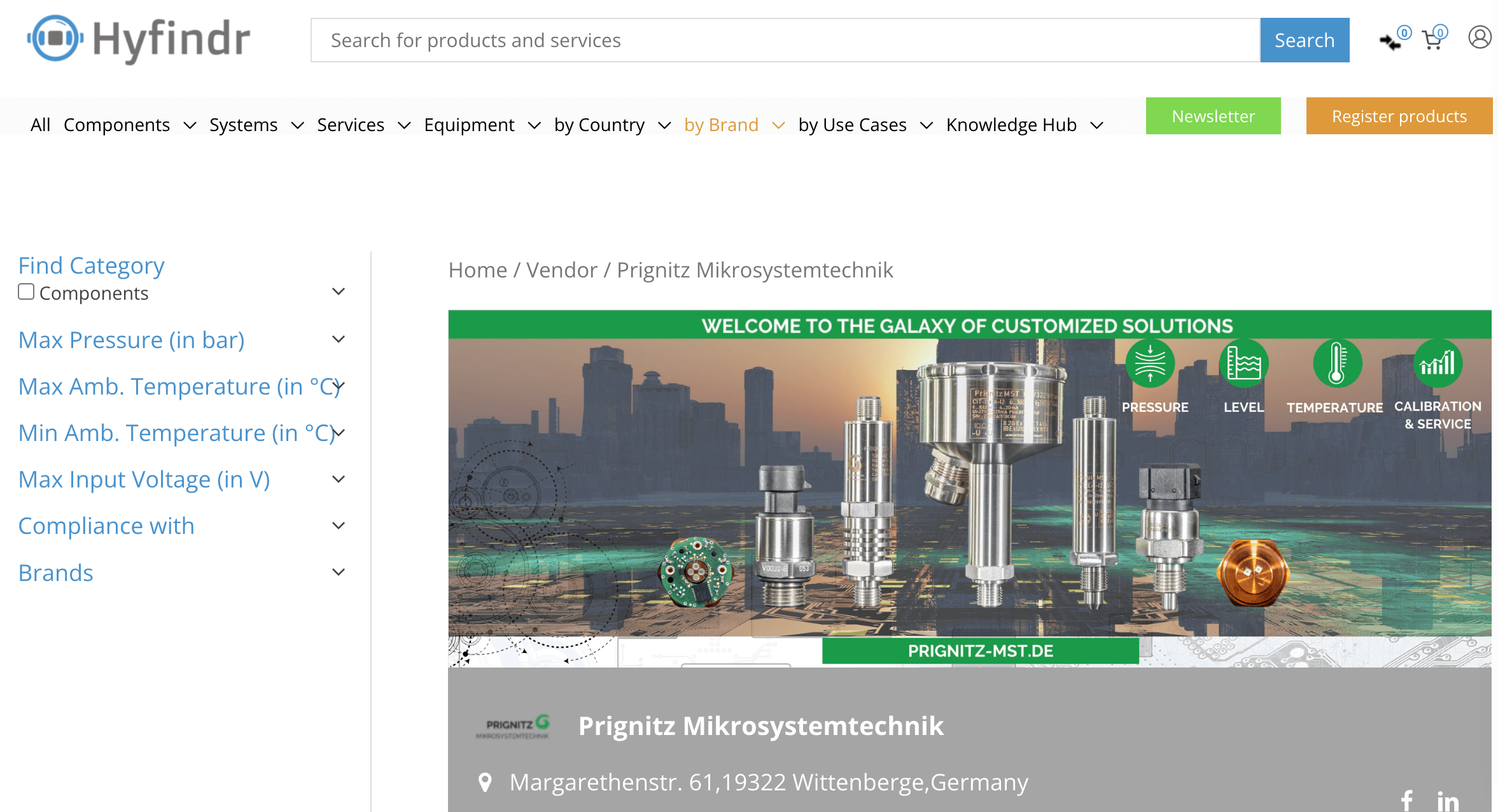 Presentation of our pressure sensors for hydrogen in italy
The latest sensor solutions from Prignitz Mikrosystemtechnik in the field of hydrogen pressure measurement were presented at the HYDROGEN EXPO in Italy (17-19 May 2023). The presentation was made thanks to the active work of the company Repcom srl. who are our partners and distributors in Italy.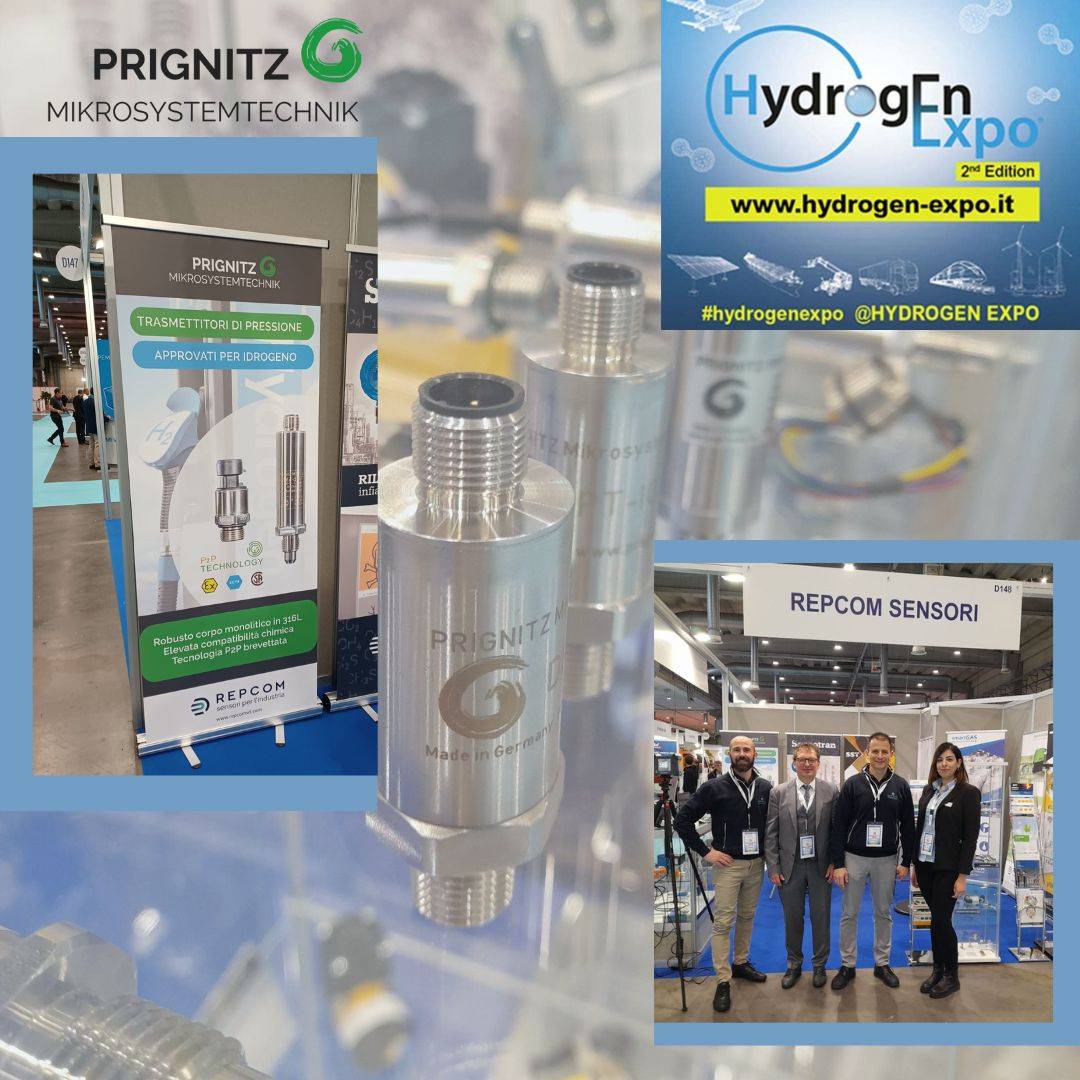 9-11 May you will meet us in SENSOR+TEST in Nürnberg
SENSOR+TEST is the world's leading trade fair for sensor, measuring and testing technology. This year again more than 350 exhibitors are expected in Nuremberg.
Prignitz Mikrosystemtechnik traditionally participates in SENSOR+TEST and we cordially invite you to visit our booth 2-216 (Hall 2). We are looking forward to a dialog!
Why should you be at SENSOR+TEST 2023? – A
comment
by  Peter Krause, CEO Prignitz Mikrosystemtechnik.

We are pleased to be exhibiting at HANNOVER MESSE'23
Among our latest technological developments in the field of sensor technology, we have something to offer industry every year at the world's largest industrial trade fair in Hannover.
It is no exaggeration to say that HANNOVER MESSE is the most important international trade fair in Europe for digital transformation in the industrial sector.
We have noted the huge interest from international businesses in our P2P technology and the robust hydrogen sensors based on it. Lots of presentations, talks, new business contacts!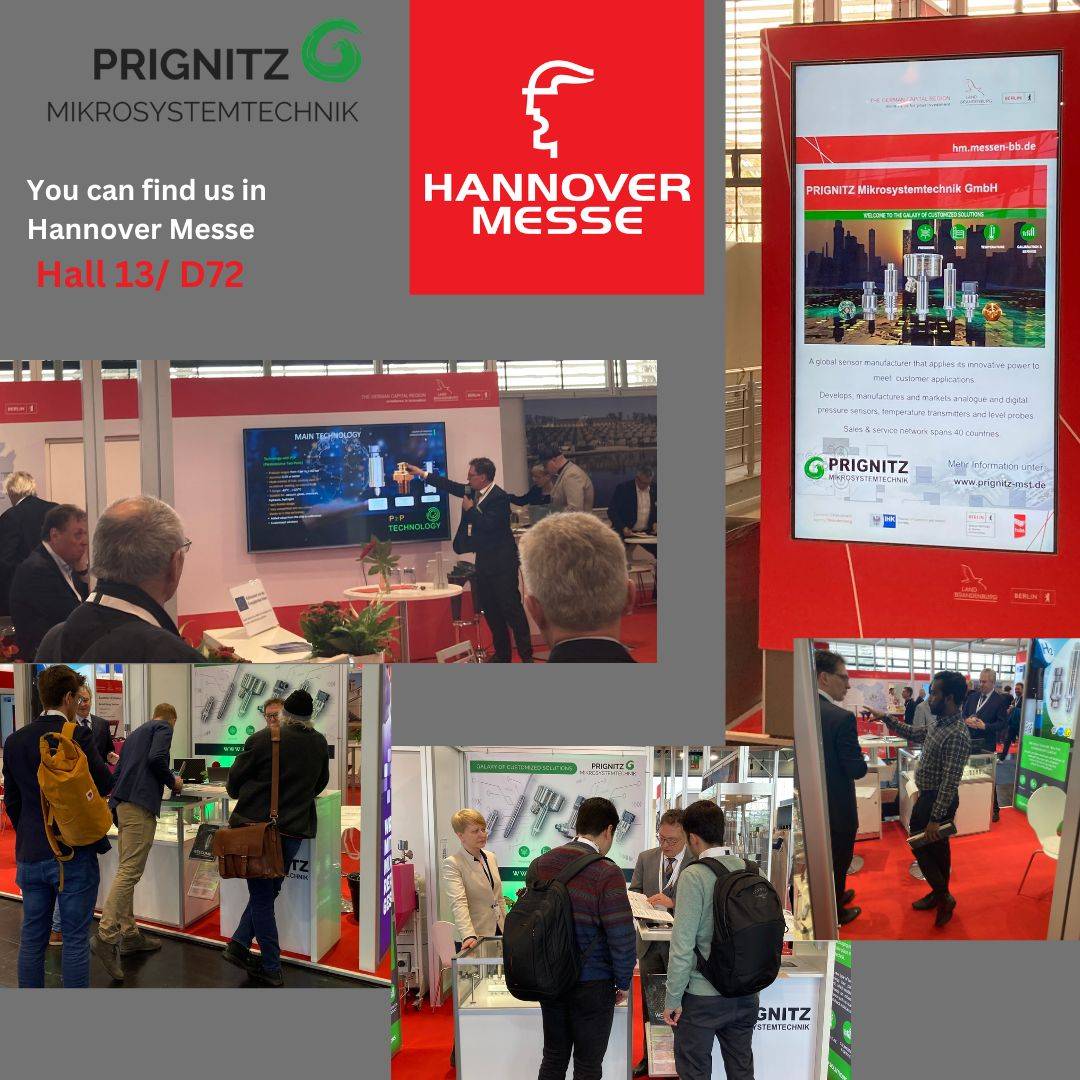 Press day of the AMA Association for Sensor and Measurement Technology 
We were pleased to be represented again this year at the Press day of the AMA Association for Sensor and Measurement Technology in Nürnberg. In addition to the annual AMA press conference and the announcement of the nominees for the AMA Innovation Award 2023, the program included presentations by sensor technology companies, including Prignitz Mikrosystemtechnik, who presented their further developments for the hydrogen market and their new, patented P2P technology. In addition, we had the pleasure of presenting our company and its R&D developments in individual presentations and discussions with journalists.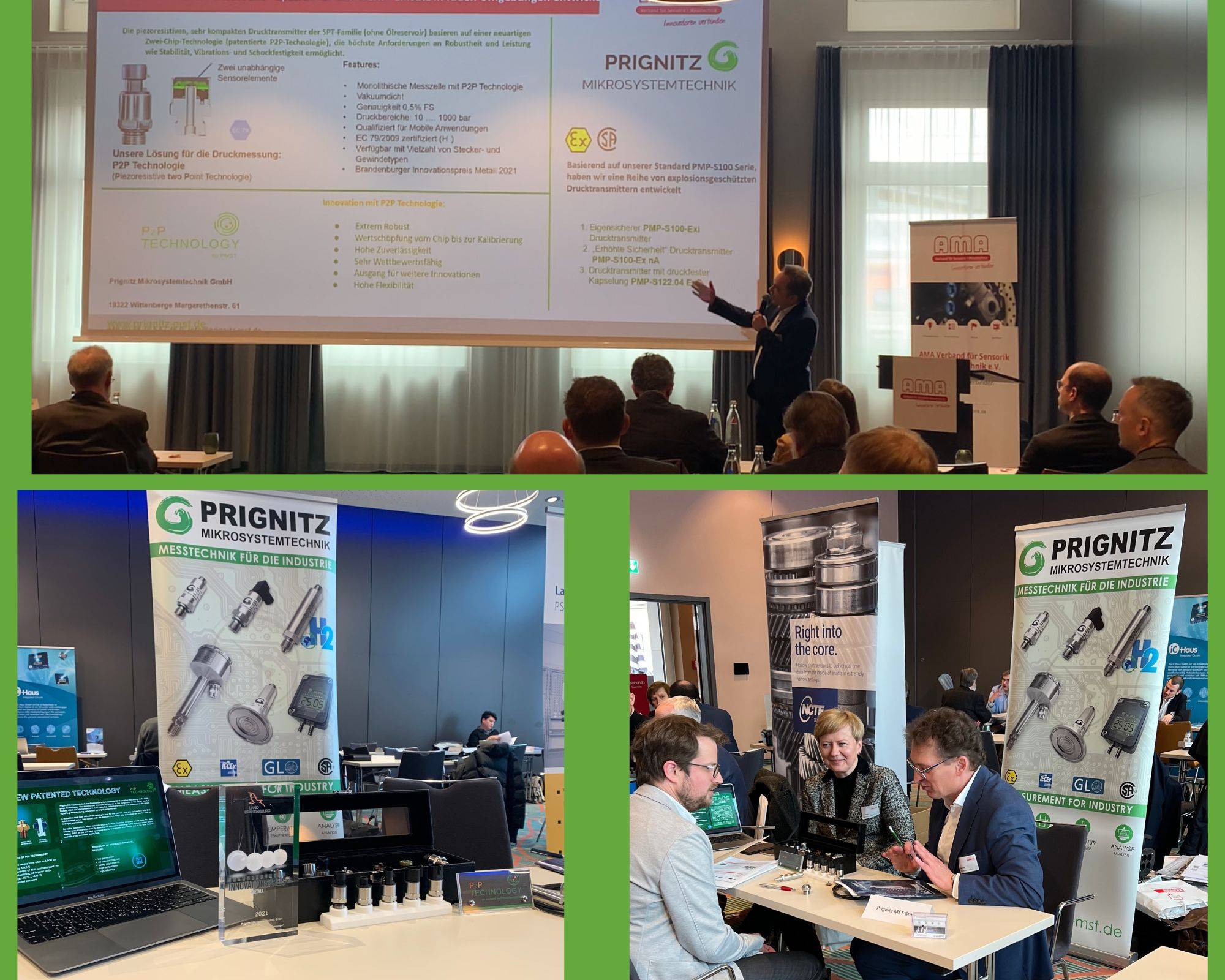 Are microsystems, sensors, microchips, transmitters boring and uninteresting for the young generation?
No! In Perleberg the annual GO!Messe (fair for education and study in the Prignitz) took place again. Numerous exhibitors, among them universities and technical colleges, craft and industry, companies from the field of administration , present themselves at the GO!Messe in Perleberg and inform young people about job profiles, regional and national training offers and internships and give tips about education and study. And the stand of Prignitz Mikrosystemtechnik, where there was a lot of information about physics and microsystems technology, attracted young people of different ages. We are constantly training in production and development and offer internships to young people. For our company, this is part of our social responsibility.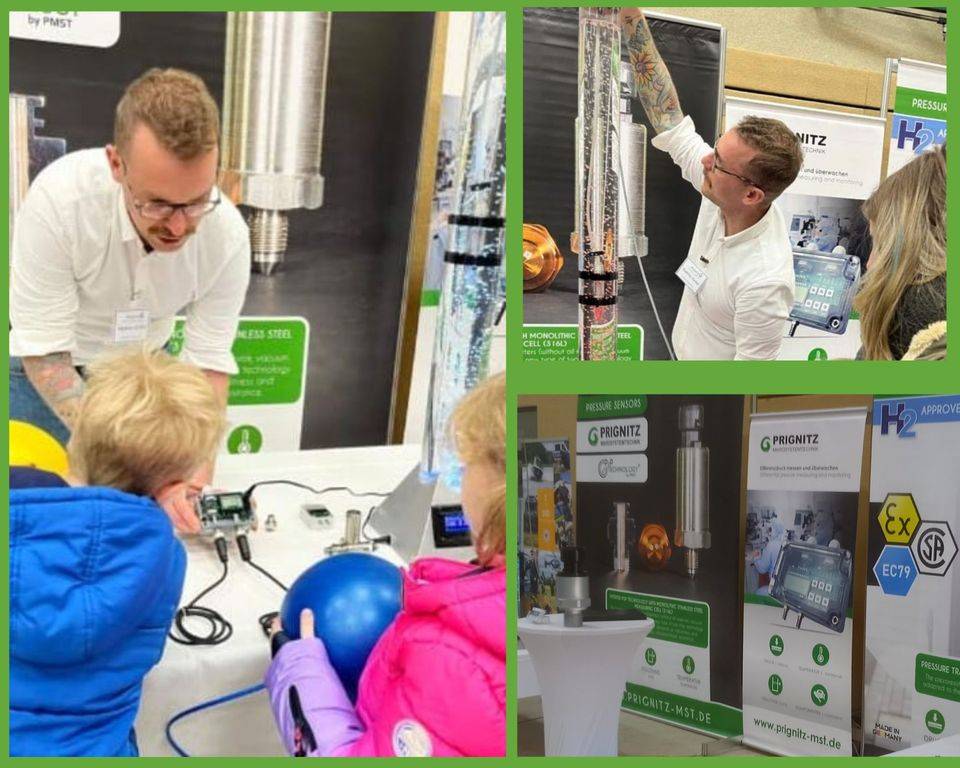 INNOVATIVES BRANDENBURG (DE)
An article on INNOVATIVES BRANDENBURG (DE) about the research and development experience of Prignitz Mikrosystemtechnik for the Hydrogen market. Every year we develop and offer the market new innovative and rugged sensors for the hydrogen industry. Follow our news – there is a lot of new on this topic ahead!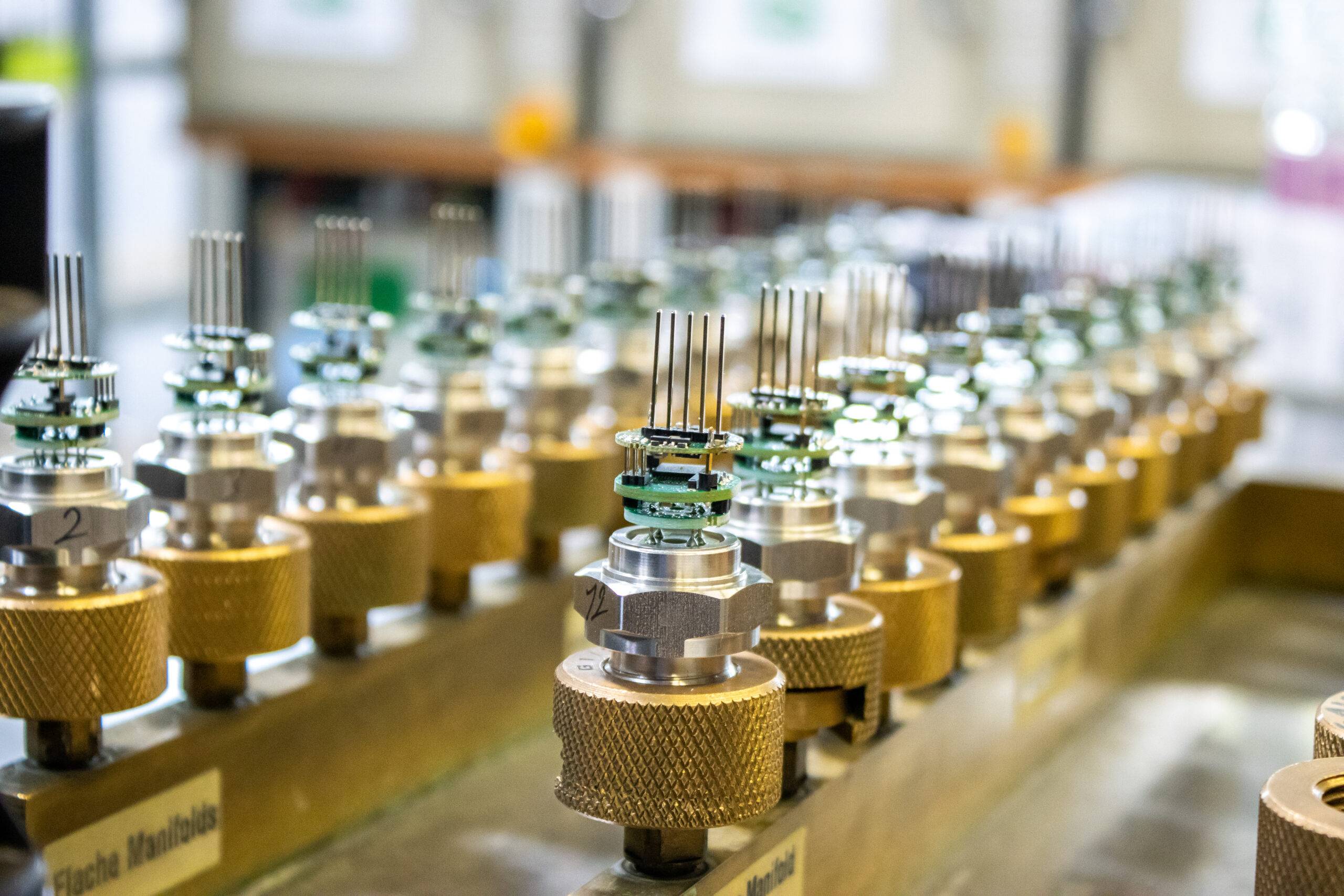 PRIGNITZ Mikrosystemtechnik GmbH celebrates 20 years of existence.
The team of Prignitz Mikrosystemtechnik celebrated on September 09, 2022 together with partners, colleagues and customers the successes and achievements achieved in 20 years. We were pleased to welcome guests from Germany, the USA, India and Great Britain.
After welcoming the guests, the management presented the history of Prignitz Mikrosystemtechnik GmbH as well as plans and visions for the future of the company. Especially in the field of hydrogen applications, Prignitz Mikrosystemtechnik will further strengthen its offerings in the pressure transmitter and temperature range.
During a visit to the production facilities in Weisen and Wittenberge, our guests were able to have the employees explain in detail the most important steps of the production process including the "clean room technologies".
The official part of our festive day ended with an extremely interesting workshop dedicated to technologies in the hydrogen market. Here, experts from industry, research and politics showed the development trends for the coming years.
Once again, we would like to thank our partners and colleagues for the many congratulations and for visiting us.
We wish everyone continued success and look forward to further successful cooperation!
Innovation assistant hired
The task of the innovation assistant is to develop a process for cleaning the membrane surface by means of laser beams, which ensures the requirements for the cleanliness of the membrane surfaces.
The employment of an innovation assistant is supported by the Ministry of Economy, Labor and Energy with funds from the European Social Fund Plus (ESF+).
www.esf.brandenburg.de
www.ec.europa.eu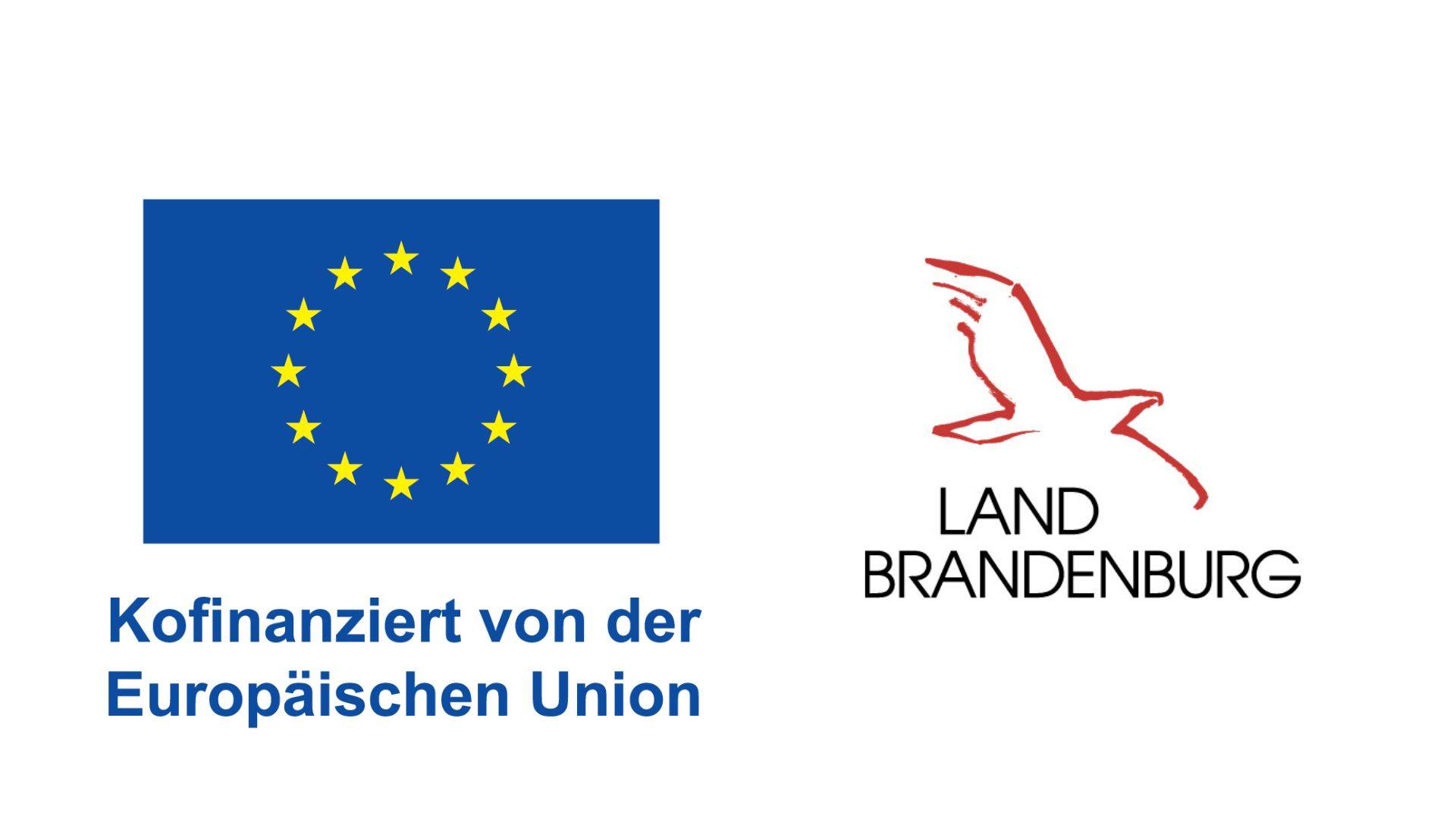 Do you want us to contact you back within 24 hours?
Fill out the form below:
Telefon: +49 (0) 38 77 / 5 67 46-0
Fax: +49 (0) 38 77 / 5 67 46-18
Mail: info@prignitz-mst.de
Contact us and we will offer you a custom solution for your business.
©  PRIGNITZ Mikrosystemtechnik GmbH 2023
All rights reserved. / Alle Rechte vorbehalten.